About Us
About Our Company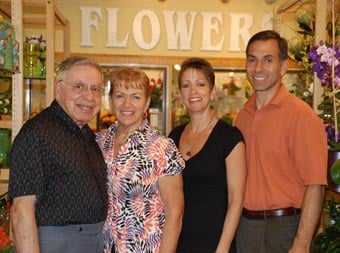 We are extremely proud to be a 3rd generation locally owned florist. And while our family has many, many years of experience in the floral business we also take great pride in remaining very up to date with the constantly changing design trends within the floral industry. It keeps us young!!

Along with our many years of experience our highly trained design staff, will simply not settle for second best … and we do not expect our customers to either. At George's Flowers our constant commitment to excellence along with our personal touch and attention to every detail have become, and continue to be our trademark. Each and every member of our organization … from our design & sales staff to our friendly delivery staff will see to it that your gift arrives in a timely manner and in perfect condition. Satisfaction Guaranteed!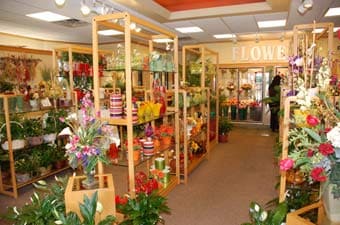 And while some shops may choose to have more than one location we choose not to, and for one very good reason. We believe that by keeping everything under one roof we are able to maintain the highest standards in both the quality of our flowers and the beauty of our floral designs. Nothing goes out of our store that isn't perfect.
We are centrally located within Madison and are able to quickly and efficiently service the entire Madison area as well as many of the surrounding communities. Yes, we are a big shop that could easily have multiple locations, but we are sticking to our ideals and keeping our floral business under one enormous roof.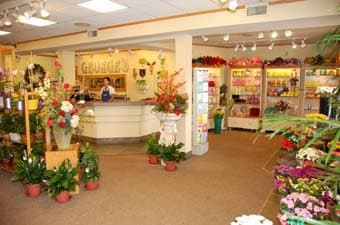 We, at George's Flowers, are happy to share our ultra-packed floral selection website with you and look forward to filling all your sentiments with style!
To see a virtual tour of George's Flowers,
Click here to play Video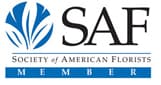 ---
George's Flowers, Inc.
421 S. Park St.
Madison,WI 53715
Specialty Services
Our goal at George's Flowers is to constantly bring to our customers the freshest flowers, arranged in the most beautiful designs, thus ultimately bringing happiness and joy to both the person who receives it, as well as you, the sender.
Having been in this business for a long time we have a great reputation for taking extreme pride in selecting only the finest roses & fresh flowers available on the market direct from our growers. Being large enough to be able to buy direct is a fabulous thing since this enables us to purchase the freshest floral product available for you right from our grower's fields. Our flowers arrive to us from destinations all over the world – from Holland to Hawaii, and everywhere in-between. And when our Wisconsin weather permits, (our long winters make it a bit tough) seasonally some of our flowers arrive from our growers within Wisconsin.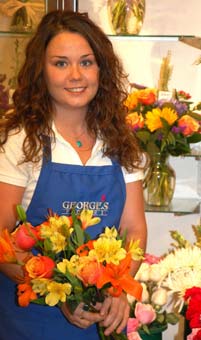 But no matter where our flowers come from, ultimately we are always working to get our customers the most beautiful & freshest flowers available on the floral market.


We feature an array of designs & gifts that include:


European vase designs, both garden style & clustered styles
Contemporary, high style tropical/exotic designs
Our always popular Gorgeous Rose Bouquets
(We are considered "Madison's Rose Specialist"!)
Extremely elegant sympathy designs
Orchid plants, green and blooming plants & European dish gardens
Delicious handmade gift-boxed truffles, balloons & stuffed animals
Handmade art glass vases, etc. – unique keepsake designs
---
Store Hours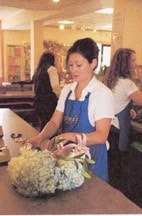 Monday - Friday: 8am - 4pm
Saturday: Closed
Sunday: Closed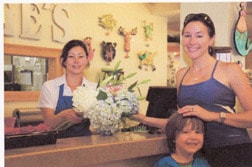 To help assure on-time delivery during the busy holiday season, place your order at least 4 days prior to the following major holidays: Thanksgiving Day, Christmas Day, New Year's Day, Valentine's Day, Easter, Administrative Professionals Week, Mother's Day, Memorial Day weekend, Father's Day, Independence Day and Labor Day weekend.

Our shop will always be closed on the following holidays: Thanksgiving Day, Christmas Day, New Year's Day, Easter, Memorial Day Weekend, Independence Day and Labor Day Weekend.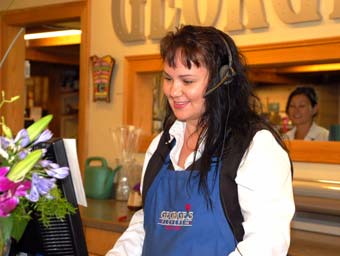 ---
100% Guarantee

Our commitment to you is 100% satisfaction on all your floral and gift purchases. If you are not completely satisfied, let us know by calling (608)255-5500.
---
Payment Options
We accept the following payment methods:
Visa
MasterCard
Discover/NOVUS
American Express
---
Our Planet Earth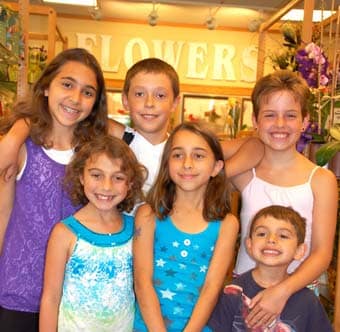 All of us at George's Flowers in doing our part for the planet earth and for George's fourth generation, pictured at the right, continue our efforts to be as environmentally conscientious as possible. Click here to visit "Going Green with George's"to see what we are up to. In addition to being members of many, many local organizations here in Madison we are also members of the 3/50 project which encourages individuals to frequent independently owned Brick and Mortar businesses, such as George's Flowers, who constantly put dollars back into our local community through employment, taxes, payroll and other expenditures – thus keeping dollars within our local community and helping to make our community strong.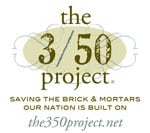 ---
Delivery Policies
*We deliver Monday thru Friday.
DELIVERY FEES - We have an $9.95 delivery charge, per order, on all local Madison deliveries. Click here to see our Delivery Policies and to view the surrounding areas we service, as well as the Minimums & Delivery Fees to these areas. We do not deliver to rural route addresses.
ORDER & DELIVERY CONFIRMATIONS - When placing your order, if you provide us with your email address you will automatically receive both an Order Confirmation and Delivery Confirmation.
WE ONLY ACCEPT INTERNET ORDERS THAT ARE WITHIN OUR GEORGE'S FLOWERS DELIVERY ZONE (View Local & Surrounding Areas in Delivery Policies). Any orders placed in error, even though the customer will have received an order confirmation, will be VOIDED and there will be NO CHARGE processed on the customer's credit card.
TIME RANGE DELIVERY REQUESTS - We will do our best to accommodate delivery time range requests, during our normal hours of delivery, but we cannot guarantee specific times.
U.S. ORDERS MUST BE RECEIVED BEFORE 12:00PM (NOON) IN THE RECIPIENT'S TIME ZONE to help assure same-day delivery (holiday orders are exempt). Orders received after that time will be attempted the following day. *COVID-19 has delayed same-day delivery in some areas.
INTERNATIONAL ORDERS - Please place all International Orders through teleflora.com or call Teleflora at (800)493-5610. We are not able to accept international orders over the internet and prefer you place all International Orders through Teleflora Headquarters directly.
EVENTS - Event Set-Up Services & Delivery Fees are higher.
ORDER EARLY FOR HOLIDAY DELIVERY - To help assure delivery during the busy holiday season, please place your orders at least 4 days prior to all major holidays, including: Valentine's Day, Easter, Administrative Professionals Week, Mother's Day, Father's Day, Thanksgiving Day & Christmas Day.
GEORGE'S WILL BE CLOSED FOR ALL MAJOR HOLIDAYS - Our shop will be closed on all major holidays, and may also be closed on a few days surrounding the major holidays, for our staff to also enjoy their time with family & friends.
---
Areas Served
George's Flowers serves the entire community of Madison, Wisconsin as well as the surrounding communities of Middleton, McFarland, Oregon, Verona, Sun Prairie and Waunakee. Our minimums & delivery fees are slightly higher for these surround communities. Click here to visit our "Delivery Policies" to see a listing.
We also deliver to the following facilities

All Faiths Funeral and Cremation

Alterra Sterling House

Alterra Wynwood Of Madison

Applewood Homes Inc

Badger Prairie Health Care Ctr

Belmont Nursing & Rehab Ctr

Cherry Home

Cherry Homes Of Verona

City View Nursing Home

Colonial View Apartments

Concentra Medical Ctr

Coventry Village Retirement

Cress Funeral & Cremation Svc

Dean Pharmacy

East Dialysis

Elder Care Of Dane County

Elderspan Management

Evora Lodge

Four Winds Lodge

Four Winds Manor

Frederic Care Ctr Inc

Funeral Service Alliance

General Medical Laboratories

General Pediatric & Teenage

Greentree Glen Senior Aprtmnts

Gunderson Funeral Home & Crmtr

Hammersley House

Harbor House & Suites

Harbor Suites Assisted Living

Harmony

Hometown Village

Independent Health Care Inc

Independent Living Retirement

Informed Choice Funeral

Joyce Funeral Home Inc Central

Joyce Ryan Funeral Home

Joyce-Verona Funeral Home

Karmenta Nursing & Rehab

Lighthouse

Madison Emergency Physicians

Main Street Quarters

Mariannes' Elder House

Meadowmere Assisted Living

Medflight

Mendota Mental Health Inst

Meriter Foundation Inc

Meriter Health Ctr

UnityPoint Health - Meriter Hospital

Meriter Retirement Svc Inc

Meriter Terraces

Midwest Home Care

Oak Park Nursing & Rehab Ctr

Oakwood Village East

Oakwood Village West

Olde Middleton House

Olson-Holzhuter-Cress Funeral

Oregon Manor Ltd

Our House

Pedeatric Critical Care Unit

Pleasant View Place

Prairie Oaks Senior Housing

Research Park Clinic

Rest Haven Health Care Ctr

Rolling Meadows Homes Inc

Ryan Funeral Home

Saint Mary's Care Ctr

SSM Health Hospital

Schroeder-Cress Funeral Home

Senior Citizen Consulting

Sienna Crest

Sienna Meadows

St Marys Care Ctr

Sun Prairie Health Care Ctr

Sunny Hill Health Care Ctr

Swanton House

Tuschen-Newcomer Funeral Home

U W Children's Hospital

U W Comprehensive Cancer Ctr

U W Health-Health & Nutrition

U W Healthwest Clinic

University Of Wisconsin Clinic

University Station Clinic

Us Army Reserve Hospital

Us Veterans Hospital

Uw Children's Hospital

Waunakee Manor Child Care

Waunakee Manor Retirement Ctr

Whitney Lodge

Willow Pointe Assisted Living

Willows Nursing & Rehab Ctr

Winn Funeral Home

Women's Health Initiative

Woodland House
---
Substitution Policy
Depending upon availability George's Flowers retains the right to substitute any flowers &/or containers that may be needed, while still filling the order to value. Occasionally, these substitutions may be necessary to create your bouquet due to the availability of certain flowers in various parts of the country. Care is taken to maintain the style, theme and color scheme of the arrangement, using flowers of equal value. Additionally, the substitution of certain keepsake items may be necessary due to increased demand, especially during major holidays. In single flower arrangements, such as an all rose bouquet, or orchid bouquets, we will make every attempt to match the flower type, but may substitute with another color.
---
Contact Information
If you have any questions or need more information, call us directly at (800)285-7673. We're always here to serve you and make your flower-sending experience a pleasure.
---